•
By bus
•
By train
•
Taxi & transfer
•
Rent a car
•
Car sharing
Distance from the center of Amsterdam to Schiphol Airport is 25 km. You can get to the main air gates of the country by public transport, including trains and buses, as well as a taxi or a rented car. The Netherlands is known to be a cyclist's paradise, so it comes as no surprise that the airport can be easily reached by bike paths (S106 then S107).
Travel time from the city center by train is 15–20 minutes, by bus - 30 minutes, by car - 25 minutes, by bike - 1 hour.
Buses run around the clock, trains run from early morning until late at night.
Further in this post, we will take a closer look at how to get from the city of Amsterdam to Schiphol Airport: how can this be done and how much the trip by one or another type of transport will cost.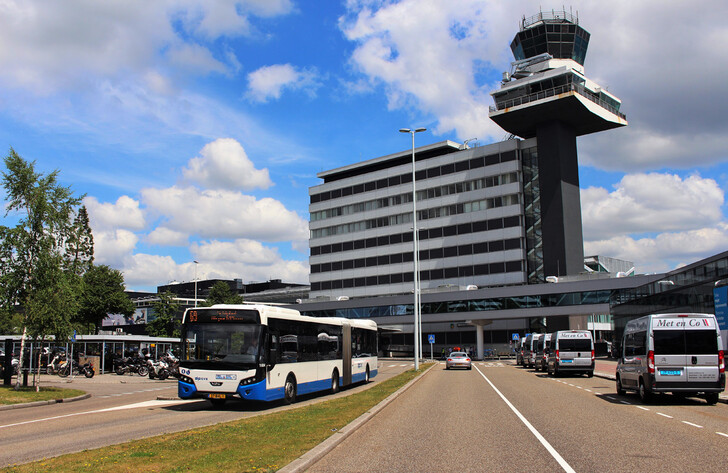 •

How to get to Amsterdam Airport by bus

Red Amsterdam Airport Express buses (line 397) will take you to the stop at Schiphol Plaza opposite the arrivals and departures halls. They depart from Leidseplein. You can also take a bus stop at the Rijksmuseum and Museum Square. Travel time is 30 minutes. The bus runs from 05:00 to 00:30. Up to eight rides are performed every hour.

At night, the N97 bus runs along the same route.

One way ticket - 6.50 euros (round trip - 11.25 euros). Payment by card only. Route operator - Connexion / R-Net.

Bus number 69 departs from Sloterdake railway station two to four times per hour. Travel time is 40 minutes.

To travel by public transport, you can use the OV-chipkaart card. Some types of OV-chipkaart can be bought online at www.ov-chipkaart.nl.
To plan a route from the your city point to the airport, use the planner from GVB - this is the main municipal transport company in Amsterdam, which serves the metro, buses, trams.
•

How to get to Amsterdam Airport by train

You can get to Schiphol by rail both from the capital and from neighboring cities. Trains arrive at the railway platform at the airport (Station Schiphol Airport). To go up to Schiphol Plaza (a hall with shops in front of passport control), you need to use an elevator or escalator.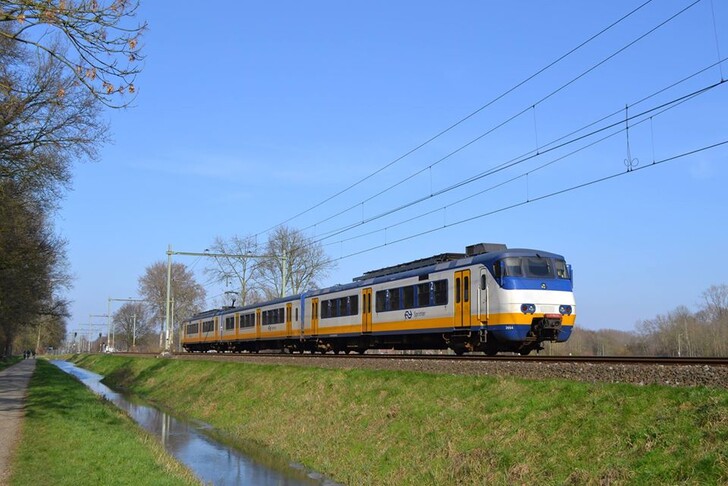 From Amsterdam city center to Schiphol Airport
High-speed trains that leave from Amsterdam Central Station provide almost round-the-clock train connections.
The service company is the main Dutch passenger rail carrier Nederlandse Spoorwegen (abbreviated NS).
There are several types of trains that run between the city and the airport - Sprinter and Intercity Direct. Almost all transportation is carried out by the first category. Sprinter makes several intermediate stops, while Intercity Direct travels in express mode and does not stop anywhere. However, the time difference is insignificant, because the declared distance is short. The Intercity has a toilet and free Wi-Fi. The ticket prices are the same.
Sprinter trains run approximately from 5 am to 1 am. The journey will take 17 to 20 minutes depending on the flight. Intermediate stops are at Amsterdam Sloterdijk station, at Amsterdam Lelylaan station.
Intercity Direct will take you to your destination in 13 minutes. Flights are infrequent.
One-way fare in a 2nd class carriage is 4.60 euros when purchased online. When buying at the ticket terminal at the station - 5.60 euros.
To see the schedule for the desired date, as well as the nearest departures, go to the NS website. Please note that there are docking options in the chart - they do not fit.
Other locations to Schiphol Airport
Amsterdam Airport can be reached from some Dutch cities - Utrecht, Rotterdam, Leiden, The Hague, Delft. As a rule, the routes do not require a change.
So, from Utrecht the Intercity train will take you in 30 minutes, from The Hague - in 40-50 minutes, from Leiden - in 20 minutes, from Rotterdam or Delft with one change - in 1 hour and 20 minutes.
Tickets for all directions are available on the same website of the NS railway operator.
•

Taxi to Amsterdam Airport

Taxis are an alternative to public transport. You can call a car in the traditional way - by phone. The cost of the trip by taxi from Amsterdam to Schiphol Airport is 45-75 euros depending on taxi class. It is much more convenient to do this through a mobile application on a smartphone. In the Netherlands, for example, Uber operates. It has one drawback - the increased cost of the trip with high demand. Price range - from 30 to 60 euros depending on the tariff.

Transfer to Amsterdam Airport is a reliable option in every sense. The cost of the trip is known in advance and is fixed. You can place your order a few days before check-out. The driver arrives exactly at the specified address. Taxi driver will drop you off in front of the designated Departure Lounge. If necessary, you can book a child seat option. Available options include cars for couples with children, minivans for small groups, minibuses for organized groups and executive cars for business travel.

The KiwiTaxi service cooperates only with trusted carriers. Just pick a suitable direction and place an order.
Search for transfers to Schiphol Airport
•

Rent a car

Driving around the Netherlands is not a bad idea, especially if you only have a few days to travel. You can rent a car and use it to get to the airport. Look for a suitable car using the Rentalcars service.
•

Car sharing

The only car-sharing operator at the airport is Share Now (formerly car2go). The company's fleet includes small electric vehicles of white and blue color, designed for a couple of people and a small amount of luggage.

A trip to Schiphol costs € 0.31 / minute plus a mandatory payment of € 8.90. Registration in the system costs 9 euros. The registration process will take some time, so it must be done in advance.

You can leave your car in designated areas within the parking zones.

Learn more about rates, terms of use, driver requirements and more on Share Now website.
Quick facts
Amsterdam

popular places
Amsterdam
Amsterdam Centraal
Schiphol Airport
Amsterdam Airport Schiphol
Mövenpick Hotel Amsterdam City Centre
Sloterdijk
Centraal Station
Amsterdam

popular taxi routes
Schiphol

popular places
Schiphol
Amsterdam Airport Schiphol
Schiphol (Airport)
Schiphol Airport
Схипхол
Schiphol Amsterdam Airport
Amsterdam Schiphol Havalimanı
Schiphol

popular taxi routes